Want to know more about Doudou?
WHAT IS A DOUDOU?
Doudou is a reassuring object, a means to comfort us when we are scared or sad, a confidante, a charitable presence ... A mix of all these, probably. And if, when we are 20, 30, 50 years old or more, we find our chewed and gnawed childhood doudou at the bottom of the cupboard (but never in the bin!), it is only because we have progressively replaced it, even without realising it.
Behavioural and psychological surveys agree that Doudou appears in the child's environment between 4 and 6 months, only to disappear when they are around 6 years old. Doudou has been defined as a « transitional object » by Donald WINNICOTT, a brilliant English pediatrician and psychoanalyst.


But we just have to look around us to realise that, if Doudou as a cuddly soft toy is logically less present in our adult lives, the doudou is nevertheless not completely absent. He just happens to take on other shapes!
HOW DOUDOU HELP YOUR CHILD?
Doudou assists the toddler in his/her daily life, helping him/her to overcome separation anxiety from his/her
mother when going to the nanny, the kindergarten or simply to bed. A precious transitional object, subject to the condition that it is well adapted to the child's needs.
IS DOUDOU SAFE FOR NEWBORN?
All our products are certified as per the CE / ME safety norms and are perfectly adapted to toddlers. Neither too small nor too big, our Doudou can be sucked, chewed, kneaded, stretched or cuddled, without becoming distorted or pose any physical risk to their cute owners.
Extremely soft, with a choice of fabrics and shapes specially designed to please the children, and at the same time, comply with parental requirements, our Doudou are ultra resistant and will be the Baby's friend for years!
HOW TO CREATE THE BOUND BETWEEN BABY AND DOUDOU?
Before giving Doudou to Baby, we encourage you to wash Doudou in the washing machine with the same detergent used for Mummy's clothes.
Then let Doudou sleeps with Mummy for 3/4 nights to enable Doudou to absorb Mummy smell.
Doudou is then ready to join Baby's bed and bring him the comforting Mummy smell.
IS DOUDOU WASHABLE?
The Doudous can be washed in washing machine at 30 Degrees Celsius as many times as you want.
HOW TO PRONOUNCE DOUDOU?
You know how to say : YOU?
Switch the Y with a D, and repeat it Twice. You Got it !!!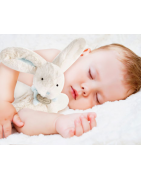 Sorry for the inconvenience.
Search again what you are looking for